I DID IT!!!
I finished my hike on October 7 at Cumbress Pass, Colorado. I'm enjoying my reentry into civilization and reconnecting with everyone.
"My Shear Da Beard" event was a big success!
Thank you to everyone who came to the event and helped push my total donations to over $11,000! I so appreciate all of your support and so do the people at CurePSP.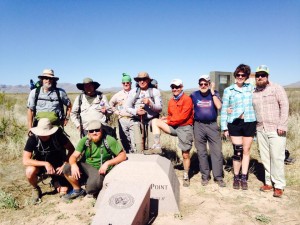 I arrived in Lordsburg late Friday night, after a very long day of hiking.  I covered 40 miles and was exhausted by the time I arrived at 2:30 am, so I spent Saturday relaxing.  Sunday morning I began segment two, moving toward Silver City, which I hope to complete by Tuesday night.  So far all is going well and I've made some new friends, who have given me a trail name:  Axyl!